September 10th, 2009
I've been meaning to do this for some time now, and I've finally found the time to put it together. I've digged up the php code I used for the ViEmu around the world map over two years ago, entered the Codekana customers data, and got a nice map courtesy of Google maps.
An overview of Codekana customers around the world: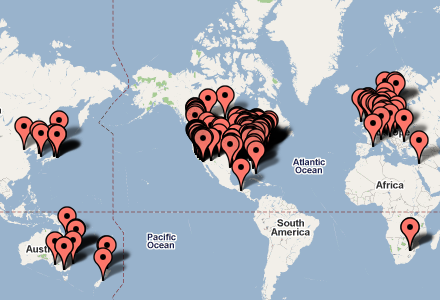 This time, unlike in the ViEmu map, America is in the center. Just so that I won't be accused of any favoritism!
See here the far east Asia and Oceania: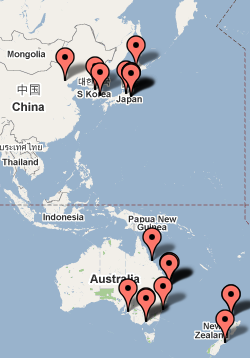 Google's geoloc is especially poor in this part of the world, so several sales often coalesce into a single point in the middle of the city (and I have to remove the street portion of the address manually, or the geoloc just doesn't return anything!).
We also got Europe fairly covered: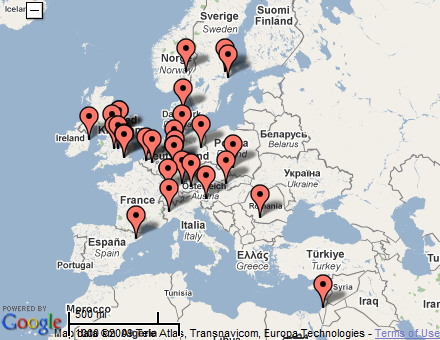 Google's geoloc for the UK is quite improved since the last time I did this – it just didn't work back then.
And finally, North and Central America. You can see the US is where Codekana is most popular – or maybe it's just the higher concentration of developers?: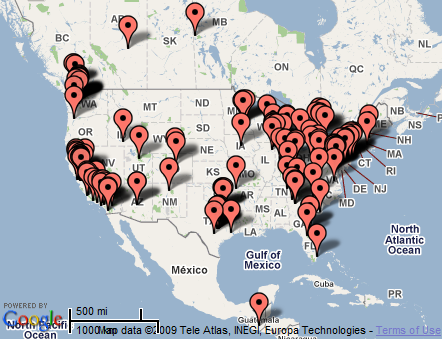 I find it curious that the tech hotspots in the West half of the US are so concentrated in California and Seattle,  while sales in the East half seem much more evenly distributed. There are probably more sales in California and the Seattle area than all the others together, but it's not apparent on the map because they are so heavily concentrated.
These maps are neither complete nor totally precise: Googles geoloc isn't always able to find the (lat,long) pair for an arbitrary address, and I haven't used the data of all Codekana customers. If you are a customer and your town or country is not marked, please understand that is the cause! I just wanted to show that Codekana is widely used around this beautiful little planet.
I am currently working in a redesigned web site for Codekana, which will likely be ready in just a few days, and a new version of Codekana itself with several improvements is also on the way. The plans for late-2009 and early-2010 are to provide new versions with hugely improved functionality, both for Visual Studios <= 2008 and for the new Visual Studio 2010.
To all Codekana customers: thank you so much for relying on and supporting Codekana. And I hope to give back to you by providing new functionality to make your daily coding easier and more enjoyable!